Client was asked about smoking status (current, former, or never)
Client or baby is exposed to secondhand smoke
Client received one or more Advise topic
Client was assessed for their stage of change
Client indicated they are willing to quit in 30 days
If client identified as willing to quit, client received one or more strategy in the Assist stage
Client set a quit date
If client identified as willing to quit, client was scheduled with a CTTS program or other tobacco cessation program
If client identified as willing to quit, client was referred to the quit line
Client was scheduled with a follow-up appointment
A data collection form can be used by organizations to guide health care professionals or programmatic staff through the implementation of the 5 A's counseling intervention. Results can be entered into a database and used to track progress on the implementation of the 5 A's over time. The SFF Client Intervention Record is designed to record the client's progress in completing the 5 A's, and track their interest and progress through the quit process. Some of the key data being collected is listed below.
Click here to download the 5 A's Intervention Record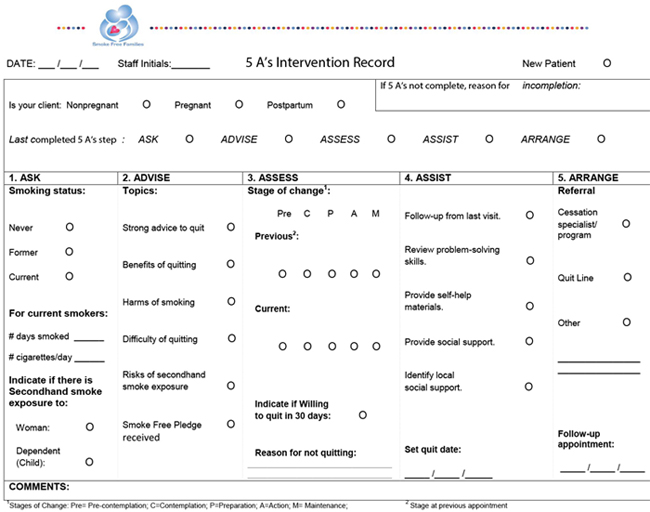 For organizations interested in implementing this data collection form, we strongly recommend it is used with every client at every visit and data is inputted and stored electronically. The form does not collect Personal Health Information (PHI) but can be revised to fit the needs of the implementing organization. Please refer to the Contact Us section if you have questions on the form.